Rutgers spy cam case: Dharun Ravi defense rests
Dharun Ravi faces 15 charges, but the most serious is 'bias intimidation.' Prosecutors in the Rutgers spy cam case must convince the jury that Dahrun Ravi acted out of hatred against gays. He faces up to 10 years of prison if convicted.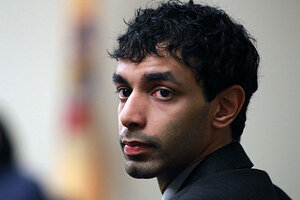 (AP Photo/The Star-Ledger, John Munson, Pool, file)
New Brunswick, New Jersey
Jurors will not hear directly from the defendant in the trial of the former Rutgers University student accused of using a webcam to spy on his roommate's intimate encounter with another man.
Indian-born Dharun Ravi's defense lawyer rested his case Monday without calling Ravi to testify.
The jury could begin deliberating on Tuesday after lawyers give their summations.
The trial captured in detail the actions of Ravi and his randomly-assigned freshman roommate, Tyler Clementi, over a few days in September 2010, beginning when Clementi asked for privacy so he could have a guest over and continuing past when he committed suicide by jumping off the that links New York City with New Jersey.
RECOMMENDED:Tyler Clementi and cyberbullying: How courts ruled in 5 other cases
The suicide made Clementi a national symbol of the difficulties young gays can face.
Ravi is not charged with his death. He faces 15 criminal counts, including invasion of privacy and bias intimidation. Seven of the charges are related to allegations that he tried to cover his tracks by changing a Twitter messages, deleting text messages and telling another witness what she should say.
Testimony stretched over 12 days and included about 30 witnesses, including several college students, along with school officials and investigators. Jurors also heard from the other man in the streamed video; he was identified only by the initials M.B.
---