Arizona digs out from mega snow storm
The winter snow storm forced Arizona officials to temporarily close Interstate 40 and parts of Interstate 17. Both highways later reopened Sunday afternoon.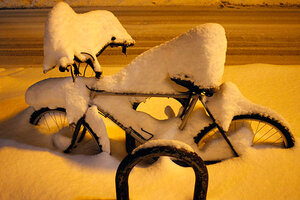 Joshua Lott/REUTERS
A winter storm and high winds struck parts of Arizona and New Mexico on Sunday, causing hazardous driving conditions, power outages and school cancellations.
The fast moving storm forced the National Weather Service to place parts of northern New Mexico under a winter storm warning until midnight Monday as heavy snow and wind from Arizona quickly blanketed the area.
The electric company PNM reported that around 33,000 customers were out of power at one point Sunday afternoon in the Albuquerque area due to high winds. A spokesman for PNM said emergency crews were working to restore power, and by 9 p.m. the number without electricity was down to 4,500.
IN PICTURES: Extreme Weather 2012
Heavy winds and blowing dust forced the closure of parts Interstate 10 in southern New Mexico due to low visibility, but the road was back open later in the day. A flight carrying the University of New Mexico men's basketball team home after its loss in the NCAA tournament was delayed due to high winds.
Arizona Department of Transportation crews were fully deployed Sunday after heavy snow in Arizona fell from Flagstaff to the White Mountains. The winter storm forced officials to temporary close Interstate 40 in both directions and parts of Interstate 17. Both highways later reopened Sunday afternoon.
---