Peyton Manning arrives in Denver, (almost) ready to lead Broncos
Peyton Manning was introduced as the latest Broncos quarterback Tuesday afternoon in Denver. Manning's happy to have Tim Tebow as his teammate, for now.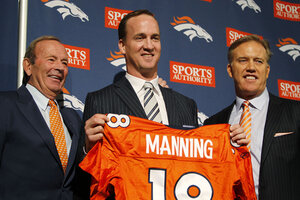 David Zalubowski/AP
Peyton Manning got John Elway's seal of approval and Elway got the quarterback he thinks will bring the Denver Broncos their next Super Bowl title.
Now, everybody gets to see if Manning's surgically repaired neck goes along with the plan.
Manning was introduced as the new quarterback of the Denver Broncos on Tuesday, the four-time MVP taking the spot once held by Elway, who as Broncos vice president engineered the deal to bring the NFL's most sought-after free agent to town.
After holding up his new, orange No. 18 jersey in a photo op with Elway and owner Pat Bowlen, Manning answered many of the questions that have been bouncing around since March 7, when his old team, the Colts, released the quarterback and set in motion one of the most frenetic free-agent pursuits in history.
On the neck injury that kept him off the field through 2011: "I'm not where I want to be. I want to be where I was before I was injured. There's a lot of work to do to get where we want to be from a health standpoint."
On his potential role in being the man who could bring about the end of Tim Tebow's popular stay in Denver: "I know what kind of player Tim Tebow is, what kind of person he is, what an awesome year it was. If Tim Tebow is here, I'm going to be the best teammate. If other opportunities are presented to him, I'm going to wish him the best."
---