Trayvon Martin case draws celebrities, feds join investigation
Trayvon Martin's shooting death is attracting celebrity attention, including Spike Lee, Wyclef Jean, and Mia Farrow. The US Justice Department opened its own probe into the Trayvon Martin case in Florida.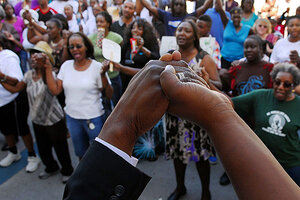 Craig Rubadoux/Florida Today/AP
Responding to an international petition, celebrity tweets, and spreading public outrage, the U.S. Justice Department opened an investigation on Monday into the shooting of a black teenager by a neighborhood watch captain who escaped arrest.
More than 435,000 people, many alerted by tweets from celebrities like movie director Spike Lee and musician Wyclef Jean, signed a petition on Change.org, a social action website, calling for the arrest of the shooter, George Zimmerman.
The Justice Department's Civil Rights Division and the FBI announced they have opened an investigation into the Feb. 26 shooting in Florida of an unarmed 17-year-old, Trayvon Martin.
"The department will conduct a thorough and independent review of all of the evidence and take appropriate action at the conclusion of the investigation," the department said.
RECOMMENDED: How well do you know the US Constitution? Take the quiz.
The campaign to draw attention to the case is the third largest in Change.org's history, and surpassed a petition of about 300,000 signatures credited last year with persuading Bank of America to drop plans for a $5 debit card fee, said Megan Lubin, a Change.org spokeswoman.
---