NYC march honors slain Florida teenager
Trayvon Martin's parents spoke at the "Million Hoodie March", saying that his son did not deserve to die.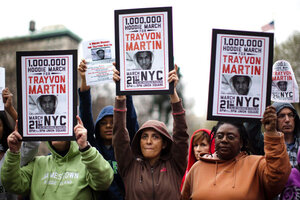 John Minchillo/AP
The parents of a black teenager shot to death by a Hispanic neighborhood watch captain in Florida told hundreds of people at a march in his memory on Wednesday that they won't stop until they get justice for him.
"My son did not deserve to die," the teenager's father, Tracy Martin, said after thanking the crowd.
Martin's son, 17-year-old Trayvon Martin, was killed Feb. 26, in Sanford, Fla. He was returning to a gated community in the city after buying candy at a convenience store. He was unarmed and was wearing a hooded sweat shirt, called a hoodie.
RECOMMENDED: Second Amendment quiz: How much do you know about gun rights?
The neighborhood watch captain, George Zimmerman, has not been charged in the shooting. Zimmerman has said the teen attacked him and he shot him in self-defense.
On Wednesday night, demonstrators chanted "we want arrests" during the Million Hoodie March in Manhattan's Union Square.
The teen's mother, Sybrina Fulton, told the crowd: "My heart is in pain, but to see the support of all of you really makes a difference."
The demonstrators greeted the teen's parents with "God bless you!"
---