Roy Williams and North Carolina come up short vs. Kansas in NCAA tournament
Roy Williams once led Kansas to the NCAA Final Four. The Tar Heels head coach has also won a pair of national titles with his alma mater, but games against KU will always affect Roy Williams.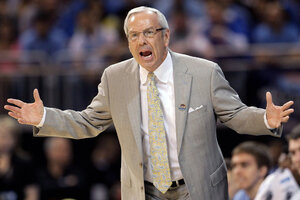 Charlie Riedel/AP
Exhaustion seemed to wash over the face of North Carolina coach Roy Williams. His voice kept catching, his lips quivering so much that he often had to stop mid-sentence.
It's hard to lose deep in the NCAA tournament.
Even harder to lose to Kansas.
"There's no way to put into words the way we feel. There's no way to put into words the way I feel," Williams said finally. "It's the NCAA tournament. One team wins and one team loses."
Playing without injured point guard Kendall Marshall for the second straight game, top-seeded North Carolina was unable to contain Tyshawn Taylor on Sunday. The senior piled up 22 points for Kansas in an 80-67 victory that sent the Jayhawks to the Final Four.
And the Tar Heels back to Tobacco Road.
"You hurt. You hurt for your team," said Williams, who coached the Jayhawks to four Final Fours. "You hurt for these kids that for 34, 35 minutes were part of a fantastic basketball game.
"The last four or five minutes," he said, "they played much, much better than we did."
The second-seeded Jayhawks (31-6) can finally purge from their memory last season's upset loss to VCU in the regional finals. They'll play Ohio State on Saturday in their first trip to the Final Four since 2008, when they won the national championship.
---