Tiger Woods: With Bay Hill win, is he ready for another Masters?
Tiger Woods got his first PGA win since 2009. His career total is now 72 PGA victories, one short of Jack Nicklaus. Is Tiger Woods ready for Augusta?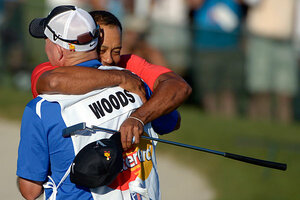 (AP Photo/Phelan M. Ebenhack)
Tiger Woods said his first win in over two years on the PGA Tour gave him "pure joy" and that it had just been a matter of patience to finally get back to winning ways.
Woods held off Northern Ireland's Graeme McDowell to win the Arnold Palmer Invitational by five strokes and finally end the nagging doubts over whether he could ever succeed again.
"It was just pure joy," a smiling Woods told reporters.
"It felt good. This is our progression and were are heading in the right direction.
"I've gotten better and that's the main thing. If you look at my results ... I've been close for a number of tournaments now.
IN PICTURES: Tiger Woods through the years
"It was just a matter of staying the course and staying patient, keep working on fine tuning what we are doing and, well, here we are," he added.
Woods now has 72 career wins on the PGA Tour after the longest gap between victories in his career ended on a course where he has now won seven times.
During his drought, he had to deal with knee and Achilles injuries and the much publicised fallout from the breakdown of his marriage and eventual divorce.
The 14-times major winner also went through a major rebuilding of his swing with coach Sean Foley and the only time he was able to celebrate was when he won his own tournament, the non-tour Chevron Challenge, in December.
Woods said his caddie Joe LaCava had sensed that he was getting close to the breakthrough.
"I've been so close to putting it all together and Joey has been 'Man, you've been a yard off all year'," he said.
---