Trayvon Martin hoodie and Skittles rallies spread across nation
From Atlanta to Seattle, rallies were held this weekend calling for justice in the Trayvon Martin case. More Trayvon Martin rallies are planned for today.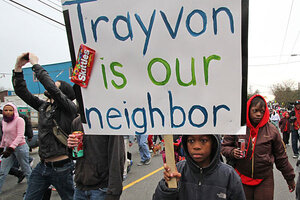 (AP Photo/The Seattle Times, Greg Gilbert)
In Phoenix, Atlanta, Oklahoma City, Seattle, and Nashville, hundreds of people turned out for rallies and marches this weekend. Many were dressed in hoodies, the same garb worn by 17-year-old Trayvon Martin when he was shot by a Florida neighborhood watch leader George Zimmerman on Feb. 26.
More rallies, prayer vigils, and hoodie protests are planned this week.
About 500 people turned out for a rally and march Sunday afternoon in downtown Phoenix to honor the unarmed black Florida teenager that police say was fatally shot by the neighborhood-watch volunteer.
"This is not about Black or White or red, green or yellow. This is about a young man on his way back to meet with his family. ... That young man paid a dear price with his life," the Rev. Oscar Tillman told the crowd, according to The Arizona Republic.
In Birmingham, Alabama, more than 400 people attended a ceremony held in a downtown park Sunday night for Trayvon Martin. They gathered at a statue of the Rev. Martin Luther King Jr. Mayor William Bell was among those attending the vigil in Birmingham. He says justice hasn't been done in the case.
---