Amazon founder locates Apollo 11 rockets
Jeff Bezos, the dot-com billionaire, announced that he has located the booster rockets that lifted the first moon mission into space at the bottom of the Atlantic ocean. He hopes to raise one or both to the surface.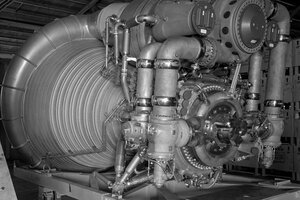 NASA
For more than four decades, the powerful engines that helped boost the Apollo 11 mission to the moon have rested in the Atlantic. Now Internet billionaire and space enthusiast Jeff Bezos wants to raise at least one of them to the surface.
An undersea expedition spearheaded by Bezos used sonar to find what he said were the F-1 engines located 14,000 feet deep. In an online announcement Wednesday, the Amazon.com CEO and founder said he is drawing up plans to recover the sunken engines, part of the mighty Saturn V rocket that launched Neil Armstrong, Buzz Aldrin and Michael Collins on their moon mission.
RECOMMENDED: Are you scientifically literate? Take the quiz
The five engines, which produced nearly 7.7 million pounds of thrust, dropped into the sea as planned minutes after liftoff in 1969. Four days later, Armstrong and Aldrin walked on the moon.
"We don't know yet what condition these engines might be in," he wrote. "They hit the ocean at high velocity and have been in salt water for more than 40 years. On the other hand, they're made of tough stuff, so we'll see."
---