Federal crews plan to contain wildfire in Colorado
Federal fire crews today expect to take control of the 7-square-mile wildfire blaze that may have claimed two lives and destroyed 28 homes in the mountains southwest of Denver.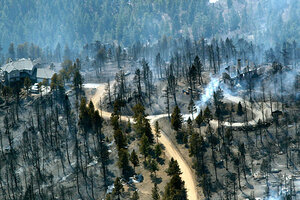 (AP Photo/David Zalubowski)
Federal fire crews are planning to take the offensive in containing a 7-square-mile blaze that may have claimed two lives and destroyed dozens of homes in the mountains southwest of Denver.
Firefighters are hoping to start containing at least part of a mountain wildfire that forced hundreds of residents to flee, damaged 28 homes and may have caused the deaths of two people.
Investigators on Tuesday were trying to determine whether a controlled burn designed to minimize wildfire risk reignited and became a stubborn mountain wildfire.
Federal agencies dispatched two large air tankers to tackle the blaze that resulted in mandatory evacuations of 900 homes south of the commuter town of Conifer, about 8,200 feet up in the Rockies foothills and 25 miles southwest of downtown Denver.
IN PICTURES: Colorado wildfires
Some 450 firefighters from Colorado, Idaho, Nevada and Utah were sent to assist 250 firefighters on the ground.
The fire consumed grass, brush and some Ponderosa Pine tree canopies. Winds were 20 mph to 30 mph before calming late Tuesday.
Denver's tightly populated southwestern suburbs were not threatened.
Jefferson County sheriff's spokeswoman Jacki Kelley said the wildfire may have sprung from a controlled burn. The Colorado State Forest Service did conduct a 35-acre burn in the region on Thursday — on land belonging to Denver's water authority — said forest service spokesman Ryan Lockwood. By destroying shrubs and woods in a controlled burn, there should be less material to fuel a wildfire.
---