Trayvon Martin effect: School lifts ban on hoodies
A Delaware high school will allow students to wear hoodies Friday as part of a demonstration for Trayvon Martin. Who wears hoodies today and why?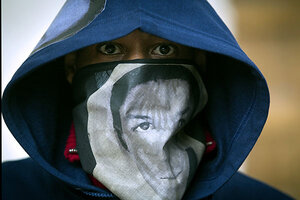 AP Photo/The Star Tribune, Renee Jones Schneider)
The William Penn High School will change the school dress code – for one day – to allow students to wear hoodies.
Students at the New Castle, Del., school will be allowed to wear hooded sweat shirts to school on Friday. The students have planned a silent demonstration in support of the campaign for justice in the case of the killing of Florida teenager Trayvon Martin. Principal Jeffrey Menzer granted a request from a student leader who asked that a school policy banning hoodies be lifted for one day so students could join a national call for justice, the Associated Press reports.
Colonial School District Superintendent Dorothy Linn called the hoodie demonstration a teachable moment but cautioned students to conduct themselves properly.
Martin was fatally shot Feb. 26 in a confrontation with neighborhood watch volunteer George Zimmerman, who told police he thought Martin, who had the hood of his sweat shirt pulled over his head, looked suspicious.
Across the country, supporters of the Martin family campaign for justice have staged "hoodie" marches. In Minneapolis on Thursday, some 5,500 people turned out for a "hoodie march," reports the Star Tribune. Legislators have donned hoodies to show their solidarity - and to protest what some call racial profiling. Fox TV personality Geraldo Rivera won notoriety last week when he said the hoodie was as much a factor in Trayvon Martin's death as George Zimmerman. Rivera later apologized on Twitter.
---