Census site snarls after it releases 1940 data
The National Archives made the 1940 records available on their website, which quickly staggered under the traffic.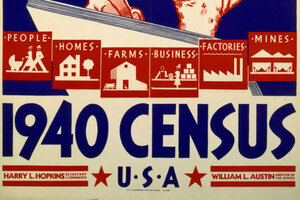 University of Texas at Arlington
Interest in the newly released 1940 U.S. census is so great that the government website with the information was nearly paralyzed shortly after the records became available to the public for the first time.
Miriam Kleiman, spokeswoman for the U.S. National Archives, told The Associated Press that the site registered more than 22 million hits in just four hours on Monday, from almost 2 million users. In a tweet posted after 5 p.m. on its official Twitter account, the archives said the website had received 37 million hits since the information was released at 9 a.m.
The government released the records for the first time after 72 years of confidentiality expired.
RELATED: 1940 Census data: what you need to know to look up relatives
It's the largest collection of digital information ever released by the National Archives. The records allow individuals and families to learn details about their past.
Susan Cooper, a second spokeswoman, said the problems began as soon as the information was released on the website. She termed the problems a "virtual traffic jam."
"We anticipate that this jam will ease up by this evening," Cooper said. "The problem is, we just weren't expecting the huge volume that we got."
---