Reggie Miller, Don Nelson lead next class into Basketball Hall of Fame
The Indiana Pacers shooting guard, along with the former Bucks, Warriors, Knicks, and Mavericks head coach, has been selected for enshrinement into the Naismith Basketball Hall of Fame next September.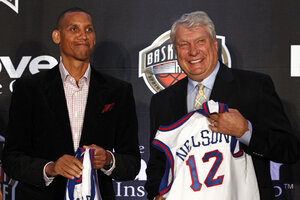 Jeff Haynes/REUTERS
Reggie Miller rode his sister's coat-tails all the way to the Hall of Fame.
The five-time All-Star joined longtime NBA coach Don Nelson and college standout Ralph Sampson on Monday as part of a 12-member class that will be inducted into the Naismith Memorial Basketball Hall of Fame in September. Miller's sister, Cheryl, was enshrined in 1995.
Miller was at home when he received the call a couple days ago that he had gained entrance to the exclusive club. He quickly called his sister, one of the pioneers of the women's game.
"I can still hear her screaming in my ear," Miller said with a smile.
Miller often recalls the story about how his sister would beat him in games of one-on-one growing up. It wasn't until he'd grown to 6-foot-7 and could block Cheryl's shot that they finally quit playing those driveway pick-up games.
"She was a role model. She is a role model. She set the bar high for the family," Miller said, "and I'm just glad I'm on her coat-tails, dragging me along to the Hall of Fame."
Miller certainly earned the trip in his own right.
After a standout career at UCLA, he became one of the best perimeter shooters in the history of the game. He was part of the 1996 gold medal-winning Olympic team and played more games with one franchise than any player except John Stockton and Karl Malone.
---