Brittney Griner and Baylor women perfect, beat Notre Dame for NCAA title
Brittney Griner has been the dominant player in women's college basketball the past three years. Brittney Griner and her Baylor teammates defeated the Fighting Irish Tuesday night to complete an undefeated season.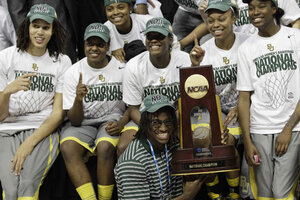 Eric Gay/AP
Brittney Griner's place in women's basketball history is secure.
Blocking layups, snagging rebounds, hitting shots over two and three helpless defenders, she towered over the competition all season long to earn player of the year and outstanding player of the NCAA tournament honors.
She was simply dominant in adding national champion to her resume on Tuesday night.
Griner had 26 points, 13 rebounds and five blocks to lead Baylor to an 80-61 victory over Notre Dame in the NCAA women's basketball championship, capping an unparalleled 40-0 season for the Lady Bears.
"Brittney Griner, whether she won today or not, will go down in the history of the women's game as, if not the greatest post player, one of the greatest," Baylor coach Kim Mulkey said. "I'm so glad she has that ring now."
When the buzzer sounded, Griner finally celebrated, hamming it up as she helped take down the nets and dancing with Heisman Trophy winner Robert Griffin III.
Then she lifted coach Kim Mulkey up on her shoulders briefly, just the way she has done for the Lady Bears during this long season.
---