Texas tornadoes disrupt airline flights, cut off electricity
Texas tornadoes forced the cancellation of 420 American Airline flights Wednesday. Some 92 American Airline planes were out of service due to the Texas tornadoes. And 22,000 homes were without power in Texas, Oklahoma, and Louisiana.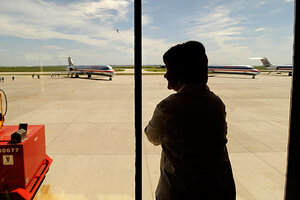 (AP Photo/The Abilene Reporter-News, Greg Kendall-Ball)
Thousands of residents were without power and hundreds of flights canceled on Wednesday as authorities surveyed the damage a day after up to a dozen tornadoes struck the densely populated Dallas-Fort Worth area of Texas.
Hundreds of homes and businesses sustained significant damage in the outbreak that brought hail, high winds, and rain as it skipped through the area, tossing tractor-trailer trucks into the air and injuring at least 17 people.
Many of the 6.3 million area residents were forced to scramble for safety as the storm bore down during the early Tuesday afternoon, when schools and workplaces were open in the fourth most populous U.S. metropolitan area.
IN PICTURES: Extreme Weather 2012
The early warning for the storm - the Dallas-Fort Worth International Airport was tracking the storm for more than an hour before it reached there - enabled people to get to safety, officials said.
About 22,000 homes and businesses remained without power on Wednesday morning from Texas to Louisiana, Mississippi and Oklahoma.
Some 420 American Airlines and American Eagle flights in and out of Dallas-Fort Worth International Airport had been canceled Wednesday, said Tim Smith, a company spokesman. There were 66 American planes and 26 American Eagle planes out of service, Smith said.
---