Texas tornadoes: 296 American Airlines flights canceled Friday
Texas tornadoes: American Airlines is still recovering from the tornadoes earlier this week. Texas Gov. Rick Perry declared three counties disaster areas in the wake of the tornadoes.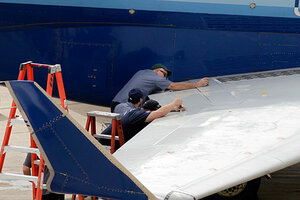 (AP Photo/The Dallas Morning News, David Woo)
American Airlines has canceled another 296 flights as it works to replace or repair dozens of planes grounded in North Texas because of hail damage.
Spokeswoman Andrea Huguely says the cancellations on Friday affect flights in and out of Dallas-Fort Worth International Airport.
The planes were caught in storms Tuesday that pounded the airport with hail, damaging 108 aircraft. The storms also spawned about a dozen tornadoes in North Texas.
Since the storms hit, American and its American Eagle affiliate have canceled about 1,600 flights, but with fewer cancellations each day. Huguely says only 27 cancellations are planned for Saturday as American gradually returns to normal operations. American and Eagle are owned by Fort Worth-based AMR Corp.
IN PICTURES: Extreme Weather 2012
Gov. Rick Perry on Thursday toured a town ravaged by storms that set off more than a dozen twisters in North Texas, and he lauded local first responders for preventing more serious damage.
Ten people were injured in Lancaster, south of Dallas, and hundreds of homes and other buildings were damaged when a tornado hit the town Tuesday. But no one was reported killed in the storms that blanketed the Dallas-Fort Worth area with twisters, thunderstorms and hail.
"Witnessing this type of disaster always brings just starkly to your mind how quickly these events can occur," said Perry, flanked by local officials in front of a nearly destroyed home in Lancaster.
While many people lost their homes and belongings that might never be replaced, "we do need to thank the Lord that it could have been worse," Perry said.
---