Ozzie Guillen to address pro-Castro remarks Tuesday
Miami Marlins manager Ozzie Guillen expressed his love for the former Cuban dictator in an interview with TIME magazine, upsetting the Cuban-American and expatriate community in South Florida.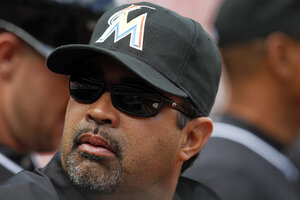 Alex Brandon/AP
Five games into his tenure with the Marlins, motor mouth manager Ozzie Guillen is returning to Miami to explain himself as a backlash builds regarding favorable comments he made about Fidel Castro.
At least two local officials said Guillen should lose his job, and the chairman of the Florida Hispanic Legislative Caucus called Monday for "punitive measures" against him.
Hoping to quell the political tumult, Guillen planned to leave his team briefly in Philadelphia and fly to Miami to apologize Tuesday at Marlins Park. The Marlins and Phillies resume their series Wednesday after a day off Tuesday.
Guillen, a Venezuelan, told Time magazine he loves Castro and respects the Cuban dictator for staying in power so long.
Before Monday's game, Guillen said he has had sleepless nights because of his comments and wants to make amends.
"I'm going to make everything clear what's going on," he said. "People can see me and talk. I've already talked to people. But I think it's the proper thing to see my eyes. They can see me and ask whatever question they want. I think sooner is better. Better for the ballclub, better for me."
He apologized over the weekend after the story broke, but some Cuban Americans remained upset. One group planned a demonstration Tuesday at the ballpark that was organized before Guillen said he would fly to Miami.
---