FBI Most Wanted: Bin Laden replaced by child porn suspect
FBI Most Wanted: No. 1 on the Top 10 FBI Most Wanted list is now Eric Toth, a former third-grade teacher in Washington, D.C. The FBI is offering $100,000 for information leading to Toth's arrest.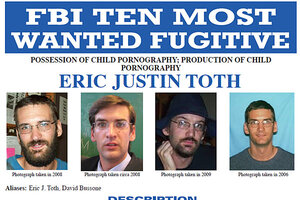 (AP Photo/FBI)
A former teacher at a private elementary school who is accused of possessing and producing child pornography has been added to the FBI's "Ten Most Wanted Fugitives" national list, authorities announced Tuesday.
Eric Justin Toth, 30, was a third-grade teacher at Beauvoir, a primary elementary school on the grounds of the Washington National Cathedral, when another teacher found sexually explicit photographs on a school camera in Toth's possession. He was escorted off campus in June 2008 and has not been seen since he lost his job.
"This is a dangerous person because of his nature, because he is a child predator, because of his ability to groom both adults and potentially these children to develop some sorts of bond of trust," said Ronald Hosko, special agent in charge of the criminal division of the FBI's Washington field office.
RELATED: Should child rapists face death penalty?
Toth's inclusion on the list reflects the FBI's emphasis not only on criminals with a violent history but also on those accused of Internet crimes.
"This nomination by us of Eric Toth is a reflection of what the bureau does and our changing mission," he added.
The FBI says it's trying to drum up publicity for the case since it lacks reliable clues about Toth's whereabouts. The Outdoor Advertising Association of America says it's working with the FBI to distribute bulletins and "wanted" posters to digital billboard operators and digital bus shelters.
---