Fans taunt Bruins goalie Tim Thomas for White House snub
Fans held up images of President Obama to taunt Bruins goalie Tim Thomas at the NHL playoff game in Washington. The Bruins beat the Capitals 4-3.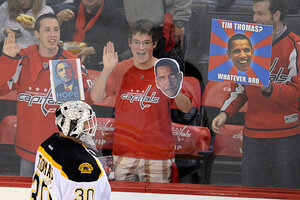 (AP Photo/Nick Wass)
With Boston Bruins goalie Tim Thomas back in the nation's capital, Washington Capitals fans weren't going to let him forget his skipped trip to the White House.
At Game 3 of the Bruins-Capitals playoff series Monday night, several spectators showed up with pictures of President Barack Obama and signs taunting Thomas. In January, he didn't show up when the rest of the Bruins were invited to the Stanley Cup champions' traditional visit to the president's office.
Thomas, born in Michigan, said at the time he believes the federal government "has grown out of control."
Most of the Obama signs were displayed by fans sitting near the glass behind the net Thomas defended in the first and third periods of Monday's game.
RELATED: Tim Thomas and six other athletes who snubbed the White House
What happened in Monday night's game? Thomas made 29 saves and ignored the taunting from fans.
Suddenly, Bruins-Capitals turned into Flyers-Penguins, replete with scraps and all sorts of scrums — not to mention quite a bit of offense thrown in.
From the high stick that knocked off Boston captain Zdeno Chara's helmet, to the cross-check to Rich Peverley's face at game's end that earned a match penalty for Washington's Nicklas Backstrom, and all sorts of mayhem in between, Game 3 "was kind of like a rugby game," Capitals coach Dale Hunter said.
---