Tim Tebow booed at Yankee Stadium: So what?
Tim Tebow was booed by Yankees fans. Really? Once Tim Tebow plays, New York fans will have something to cheer - or boo - about.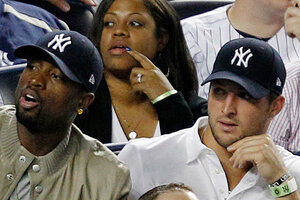 (AP Photo/Kathy Willens)
Tim Tebow has work to do if he's going to win over New York sports fans.
The new backup quarterback for the Jets was booed at Yankee Stadium on Sunday night when he was shown on the giant video board — even though he was wearing a Yankees cap.
Sitting in the third row next to the Los Angeles Angels dugout, Tebow cracked a smile and acknowledged the camera. There was a smattering of cheers, but most of the initial reactions were boos.
Tebow was acquired by the New York Jets from Denver in a much-hyped trade last month. He is expected to back up starter Mark Sanchez, even though Tebow rallied the Broncos to the NFL playoffs last season and became a polarizing sensation in the process.
Could it be that fans really like Jet's QB Sanchez that much? Or maybe Sanchez has something to be concerned about.
"I think everybody's mistaken if you think he's just going to go over there and be a Wildcat quarterback or a situational quarterback," Denver Broncos pass rusher Von Miller told NFL.com. "The Tebow that I know is going ... to be able to compete for that starting job."
---