Mother slain, baby abducted: kidnapper had suffered miscarriage
Verna McClain, who has been accused of killing a young mother and stealing her baby, is said to have been trying to replace the one she lost.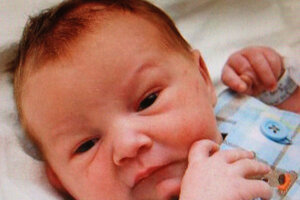 Montgomery County Sheriff's Department
Verna McClain told her fiance she had given birth to their child. But after she suffered a miscarriage, authorities said, she went looking for another baby to present to him.
Now she's accused of killing a young mother to take one by force.
Investigators say McClain waited outside a pediatrician's office north of Houston and shot Kala Golden before taking her tiny newborn son, who was only 3 days old.
Little Keegan Golden was found unharmed hours later with McClain's sister — who was told that her sister planned to adopt the boy. He is back with family members.
How much do you know about the Second Amendment? Take our quiz.
McClain is charged with capital murder and was being held Wednesday without bond. Authorities say she admitted attacking the woman Tuesday and stealing her baby from his mother's pickup truck.
McClain, 30, who listed a Houston address, was separated from her husband, with whom she had raised three children.
"I don't understand that, her taking a child," her estranged husband, Theo McClain of San Diego, told The Associated Press. "That doesn't make sense. We have three kids. And then to shoot somebody? I've never known her to hurt anybody."
McClain had told her fiance she had given birth to their child. Instead, McClain had miscarried, said Capt. Bruce Zenor of the Montgomery County sheriff's office.
Her fiancé, who was not identified Wednesday, is being interviewed by authorities.
---