Romney, Obama spar as general election fight takes off
Romney gave a speech attacking the President on the economy on Wednesday, while the President accused the GOP of being unsympathetic to those hurt by the recession.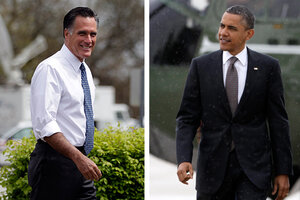 (L.- r.) Jae C. Hong/AP, Carolyn Kaster/AP
Their battle joined, challenger Mitt Romney savaged President Barack Obama's handling of the economy on Wednesday while the commander in chief commiserated up close with victims of the recession and warned that Republicans would only make matters worse.
"Obama is over his head and swimming in the wrong direction" when it comes to the economy, Romney said in a scorching speech delivered across the street from the football stadium where the president will deliver his Democratic National Convention acceptance speech this summer.
"Even if you like Barack Obama, we can't afford Barack Obama," the former Massachusetts governor declared, an evident reference to the president's ability to transcend at least some of the public's dissatisfaction with the pace of the recovery. Romney quoted liberally — and mockingly — from Obama's 2008 campaign pledges to repair the economy.
RECOMMENDED: Mitt Romney's top 5 attacks on President Obama
At the same time, Obama sketched his case for re-election in swing-state Ohio, where he met with unemployed workers who have enrolled in job training programs. Then he spoke at the Lorain County Community College.
---