Why Trayvon Martin judge is stepping down already
Judge Jessica Recksiedler disclosed a potential conflict of interest. Circuit Judge Kenneth Lester Jr. will take over the Trayvon Martin case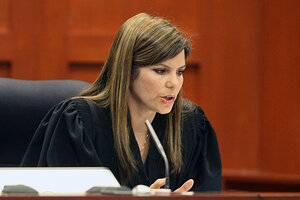 (AP Photo/Orlando Sentinel, Tom Benitez, Pool)
A Florida judge removed herself as expected on Wednesday from presiding over the second-degree murder trial of George Zimmerman, the neighborhood watch volunteer who shot and killed unarmed 17-year-old Trayvon Martin.
Circuit Judge Kenneth Lester Jr. will take over the racially charged case, which captured national attention and prompted demonstrations across the United States when Zimmerman remained free and without charge for more than six weeks.
A court news release announced the change, which had been anticipated since the previously assigned judge, Jessica Recksiedler, disclosed a potential conflict of interest last week in that her husband's law partner previously had been contacted by Zimmerman seeking representation.
RECOMMENDED: What 5 young black men say about Trayvon Martin
Recksiedler asked Zimmerman's lawyer, Mark O'Mara, to file a motion quickly if he wanted her off the case, which he did on Monday.
Recksiedler announced her recusal in a three-page order that said O'Mara's two undisclosed legal arguments to remove her were individually insufficient but together formed a compelling case.
Lester, 58, was first elected to the Seminole County Circuit Court bench in 1996 and ran unopposed for re-election in 2002 and 2008, a court spokeswoman said.
He could become among the better-known local judges in the United States if the intense media coverage of the case persists and the case goes to trial. Florida law generally permits television cameras in the courthouse, raising the possibility of serial coverage on cable news.
---