420 marijuana rally: Can University of Colorado stop it?
420 rally: Smelly fish-based fertilizer was spread at the University of Colorado where the annual 420 marijuana rally is held. Will that stop the 'Reefer madness'?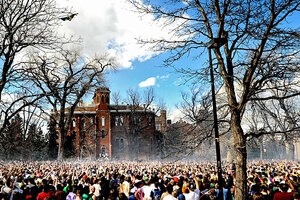 AP Photo/The Daily Camera, Mark Leffingwell
The pungent smell of pot that blankets a popular quadrangle at the University of Colorado-Boulder every April 20 is being replaced by the stench of fish-based fertilizer Friday as administrators try to stamp out one of the nation's largest annual campus celebrations of marijuana.
After more than 10,000 people — students and non-students — attended last year's marijuana rally on Norlin Quadrangle, university officials decided this year to apply the stinky fertilizer to the quad to deter pot-smokers. They're also closing the campus Friday to all unauthorized visitors and offering a free campus concert by Haitian-born hip-hop star Wyclef Jean timed to coincide with the traditional 4:20 p.m. pot gathering.
The measures pit Colorado's flagship university, which has tired of its reputation as a top party school, against thousands who have assembled, flash mob-style, each year to demand marijuana's legalization or simply to have a good time.
RECOMMENDED: What do you know about marijuana? Take the quiz
With more than 30,000 students, Colorado was named the nation's top party school in 2011 by Playboy magazine. The campus also repeatedly ranks among the top schools for marijuana use, according to a "Reefer Madness" list conducted by The Princeton Review.
---