Mitt Romney vs. Barack Obama: Who gets the dog owners vote?
The 2012 presidential campaign has gone to the dogs. But who is winning the Doggy Wars? What pet owners say about their vote.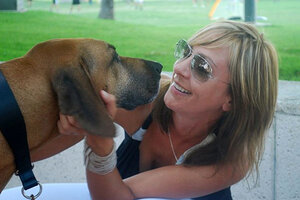 (AP Photo/Sniff Pet Candles)
So let's get all the puns out of the way, shall we? It's the issue with legs — four of them. The doggone thing won't go away. Has the presidential race just gone to the dogs? Or are we simply in those dog days between the primary season and the start of the general election?
Whatever it is, the political Mommy Wars seem to have given way this week, at least temporarily, to the Doggy Wars, with an effort by supporters of both Mitt Romney and President Barack Obama to gain points with the Doggy Vote. That's dog owners, not the dogs themselves — at least for now.
But let's talk about those dog owners. We asked a bunch of them across the country what they thought. And many — though not all — were annoyed by the whole affair, calling it a silly and pointless distraction.
"I hate seeing things detract like this from the real issues," said Barry Leimkuehler of Phoenix. "Both sides are guilty of it. I guess until the debates start, they're just filling up time."
Leimkuehler is a supporter of Romney, the presumptive GOP nominee, which gives us our segue. Because, to recap, it all starts with a story that has dogged Romney (sorry) for five years, that of Seamus the Irish setter and his unfortunate road trip to Canada.
---