Did Secret Service agents hire prostitutes in El Salvador too?
An investigative reporter says Secret Service agents went to a strip club and hired prostitutes in El Salvador last year, prior to a visit by President Obama. The Secret Service is investigating the accuracy of the report.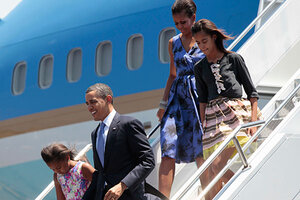 (AP Photo/Pablo Martinez Monsivais)
The Secret Service is investigating news reports of other trips in which employees allegedly engaged the services of prostitutes while traveling abroad in advance of the president, an agency official said.
The official, who spoke on condition of anonymity to discuss ongoing investigations, said the agency is trying to determine whether the reports are accurate.
Seattle television station KIRO-TV reported Wednesday on allegations that during a trip last year to El Salvador, agents engaged in activities similar to those in a prostitution scandal that emerged after a presidential trip to Colombia.
KIRO-TV reporter Chris Halsne just returned from El Salvador where a U.S. government subcontractor, who worked extensively with the Secret Service advance team in March 2011, says he joined Secret Service and US military personnel at a strip club in San Salvador. He claims he warned them not to take any of the strippers back to their hotel and was told "we do this all the time." The subcontractor said that at least two agents brought prostitutes to their rooms. KIRO-TV plans to air the report Thursday evening.
---