New York man found guilty in suicide subway bomb plot
Adis Medunjanin, a Bosnian-born US citizen, faces the prospect of life in prison after being convicted on nine counts.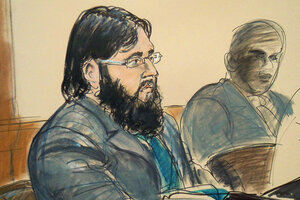 Elizabeth Williams/AP
A federal jury found a Bosnian-born U.S. citizen guilty on Tuesday of planning a coordinated suicide bomb attack on New York City subways in 2009 at the behest of senior al Qaeda operatives.
Adis Medunjanin, 28, faces a maximum sentence of life in prison following his conviction on all nine charges, including conspiring to carry out a suicide attack on American soil, receiving military training from al Qaeda and plotting to kill U.S. soldiers fighting in Afghanistan.
Medunjanin's accused co-conspirator Najibullah Zazi was arrested in September 2009, just days before Medunjanin and a third member of the plot, Zarein Ahmedzay, were prepared to carry out what U.S. Attorney General Eric Holder has called "one of the most serious terrorist threats" to the United States since the attacks of Sept. 11, 2001.
---