Known for scoring, Thunder turns up defense to edge Lakers in Game 2
Oklahoma City trailed Los Angeles by seven late in Game 2 of their NBA Western Conference semifinal series. But a 9-0 scoring run to close out the game gave the Thunder a 2-0 series lead.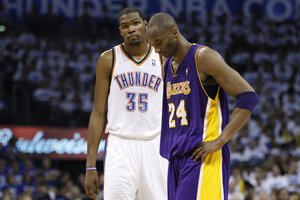 Sue Ogrocki/AP
Down in desperation time, Oklahoma City Thunder coach Scott Brooks called on Kevin Durant to show that he's more than just a three-time scoring champion. And that meant guarding one of the NBA's all-time best.
Durant was up to the challenge, keeping Kobe Bryant from excelling as usual in his closer's role while sparking the Thunder's rally for a 77-75 victory over the Los Angeles Lakers in Game 2 of the Western Conference semifinals Wednesday night.
Durant scored 22 points and rattled in the go-ahead basket on a baseline runner with 18 seconds left as Oklahoma City scored the final nine points. He also had a crucial steal from Bryant to fuel the rally.
"People talk about how I score the ball," said Durant, one of only seven players to lead the NBA in scoring three straight seasons.
"They don't look at me when we go on the other end. I think this whole playoff run, I've been picking it up on the defensive end."
Oklahoma City trailed by seven with 2 minutes left before surging back with a series of defensive stops by its stars to rally from that deficit in the closing stages of a game for the second time this postseason. The Thunder also were down by seven with 2½ minutes left in Game 1 of the first round against defending NBA champion Dallas.
---