Thunder runs past Lakers in Game 5, advance to Western Conference final
Despite 42 points from Lakers star Kobe Bryant, Oklahoma City got big performances from both Russell Westbrook and Kevin Durant Monday night to reach the conference finals for the second year in a row.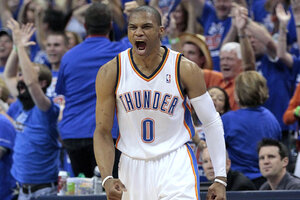 Steve Sisney/REUTERS
Ramon Sessions did the best he could to keep Russell Westbrook from making a high-flying dunk that would energize the Oklahoma City Thunder.
No matter.
Even with his feet flat on the ground, Westbrook found a way to get the Thunder rolling past the Los Angeles Lakers and into the Western Conference finals for the second straight year.
After Sessions committed a foul to stop him on the fast break, Westbrook flipped the ball up toward the rim and got it to go in for what would become a three-point play. Westbrook took off toward the scorer's table, pumping his fist as the home crowd celebrated.
There was no turning back after that, and Oklahoma City pulled away for a 106-90 victory in Game 5 on Monday night to knock the Lakers out of the playoffs.
"That was an amazing play," coach Scott Brooks said. "Obviously, there's a lot of luck to that. You put yourself in that position to get a little lucky there.
"I thought from that point on, we really played with great energy on the offensive end, moved the ball and made shots."
Westbrook finished with 28 points, Kevin Durant added 25 points and 10 rebounds and the two All-Stars skipped their usual rest periods to power the Thunder ahead in the second half.
After Westbrook's pair of three-point plays fueled a 14-3 burst that put Oklahoma City ahead to stay late in the third quarter, Durant hit two 3-pointers as the Thunder scored the first 10 points of the fourth to push their lead to 93-77.
---