Tropical storm Beryl gives South hurricane prep test
Tropical storm Beryl dumped much needed rain in the South, and caused some power outages. Jacksonville, Fla. officials say Beryl was a 'dry run' for the hurricane season which starts Friday.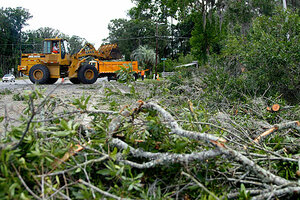 AP Photo/The Gainesville Sun, Brad McClenny
With the official start of hurricane season coming Friday, US officials are reviewing their disaster plans — especially since a tropical storm already swept ashore this week.
While Tropical Storm Beryl left little damage after making landfall with 70 mph winds around midnight Sunday at Jacksonville, Fla., it gave the city the chance to put its natural disaster plans to the test.
"You can call it a dry run, but we were prepared," Jacksonville Mayor Alvin Brown said.
RECOMMENDED: Are you ready for a hurricane? Five tips.
The city will assess the damage before deciding how much federal and state aid to seek, Brown said. About 20,000 customers remained without electricity in the city Monday evening.
Although the Atlantic's six-month storm season officially begins Friday, the season got off to an early start with Tropical Storm Alberto forming earlier in the month off the coast of South Carolina.
Then Beryl swept ashore. Beach trips, backyard barbecues and graveside Memorial Day observances got a good soaking in southeastern Georgia and northern Florida.
Jacksonville, because of its location on an inward curve in the Florida coast, rarely takes a direct hit from a tropical storm or hurricane.
---