Why Gov. Cuomo of New York wants to reduce marijuana penalty
Gov. Andrew Cuomo backs a bill that would change possession of small amounts of marijuana from a misdemeanor crime to a maximum fine of $100.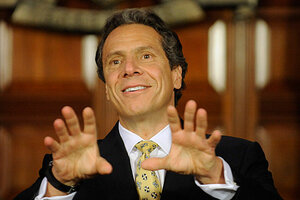 (AP Photo/Tim Roske)
Gov. Andrew Cuomo on Monday proposed cutting the penalty for public possession of a small amount of marijuana, a change in state law that would defuse some criticism of the New York Police Department's stop-and-frisk policy in minority communities.
With three weeks remaining in the legislative session, Cuomo said his bill to reduce the criminal misdemeanor to a violation with a fine up to $100 would save thousands of New Yorkers, disproportionately black and Hispanic youths, from unnecessary arrests and criminal charges.
New York City prosecutors and Police Commissioner Raymond Kelly, whose offices handled almost 50,000 such criminal cases last year, endorsed the Democratic governor's plan. Mayor Michael Bloomberg said the bill largely mirrors the city police directive issued last year for officers to issue violations, not misdemeanors, "for small amounts of marijuana that come into open view during a search."
RECOMMENDED: How much do you know about marijuana? Take the quiz
The New York legislation comes at a time when several states are considering legalizing or decriminalizing marijuana use. Colorado has a ballot initiative in November on legalizing pot. In 2006, voters overwhelmingly rejected pot legalization. Rhode Island legislators are scheduled to debate Tuesday a bill that's similar in intent to the Cuomo proposal. It would replace criminal penalties for possession of one ounce or less of marijuana with a $150 civil fine. Minors caught with pot in Rhode Island would also have to complete a drug awareness program and community service.
---