Raging NM fire prompts rescue of threatened fish
Biologists are trying to save the threatened Gila trout in New Mexico from post-wildfire ravages as crews around the West struggle to contain blazes that have charred hundreds of square miles.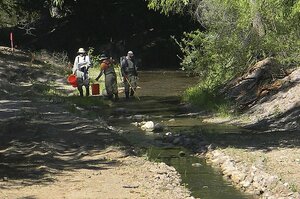 KC Shedden/U.S. Forest Service/AP
Biologists are trying to save a threatened trout in southwestern New Mexico from the post-wildfire ravages, even as crews nearby and around the West struggle to contain blazes that have charred hundreds of square miles of forested countryside.
A team used electroshocking devices to temporarily stun the Gila trout so they could quickly be scooped into a net. From there, the fish were being put into a tank to be ferried out of the wilderness via helicopter to a special truck that was waiting to drive them to a hatchery in northern New Mexico for safe keeping.
The first load of trout was brought out Friday and the work would continue into Saturday, said Art Telles, a biologist and staff resource officer with the Gila National Forest.
The fish are imperiled by the wildfire aftermath — choking floods of ash, soil and charred debris that are expected to come with summer rains.
"When we have hot fire in some of these drainages, that can move ash and sediment after the rains start and that is pretty deadly to trout," he said.
The fish wranglers are focusing on small creeks deep within the perimeter of the Whitewater-Baldy fire, a blaze that has charred more than 453 square miles of the forest and its famed Gila Wilderness. The fire, the largest in the state's history and the biggest currently burning in the United States, is 63 percent contained.
Agriculture Secretary Tom Vilsack is planning a two-day trip to Colorado and New Mexico as the fires continue to force evacuations, threaten buildings and scorch large swaths of land in both states.
---