Miami Heat bury the Thunder, Lebron gets his ring
The Miami Heat beat the Oklahoma Thunder with a barrage of three-pointers to take the 2012 NBA championship. After nine years, Lebron James finally gets his ring.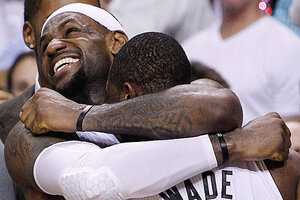 (AP Photo/Lynne Sladky)
Music blared and confetti fell, the only celebration LeBron James really wanted in Miami.
Not that one two summers ago, the welcoming rally where he boasted of multiple titles, perhaps without realizing how hard it would be to win just one.
He dreamed of this moment, with teammates surrounding him and the NBA championship trophy beside him.
"You know, my dream has become a reality now, and it's the best feeling I ever had," James said.
RECOMMENDED: Which teams have the most NBA titles?
James had 26 points, 11 rebounds and 13 assists, leading the Miami Heat in a 121-106 rout of the Oklahoma City Thunder on Thursday night to win the NBA Finals in five games.
Ripped and ridiculed for the way he announced he was leaving Cleveland and taking his talents to South Beach, it's all worth it now for James.
Best player in the game. Best team in the league.
And now, NBA champion.
"I'm happy now that eight years later, nine years later since I've been drafted, that I can finally say that I'm a champion, and I did it the right way," James said. "I didn't shortcut anything. You know, I put a lot of hard work and dedication in it, and hard work pays off. It's a great moment for myself."
And for his teammates, who watched the Dallas Mavericks celebrate on their floor last year.
---