Jerry Sandusky's adopted son lied to grand jury, now says he was molested
Matt Sandusky met secretly with police four days into his father's trial. He says Jerry Sandusky sexually abused him off and on from ages 8 to 15.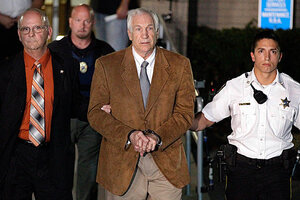 (AP Photo/Gene J. Puskar)
Jerry Sandusky's adult adopted son told police he had lied to a grand jury when he denied being sexually abused by the former Penn State University assistant football coach and said he was coming forward so his family would know the truth, according to a tape of his police interview aired by NBC on Tuesday.
Matt Sandusky, 33, said in the interview with police in Pennsylvania he was molested by Jerry Sandusky, 68, off and on from ages 8 to 15 and tried to cope by escaping from his new family's home and attempting to commit suicide.
"I know that I really wanted to die at that point in time," Matt Sandusky, who was adopted at age 18 by Jerry Sandusky and his wife Dottie after living with them as a foster child, told police.
IN PICTURES: Fallout from the Penn State scandal
Jerry Sandusky was convicted in a closely watched trial by a jury in Bellefonte, Pennsylvania last Friday on 45 child sex abuse charges linked to the sexual abuse of 10 boys over a 15-year period, sometimes at Penn State facilities.
---