Mississippi set to become the only state without an abortion clinic
A new law in Mississippi restricting abortion providers could force the state's only clinic to close. Critics say the law would force women to travel to other states to obtain a constitutionally protected procedure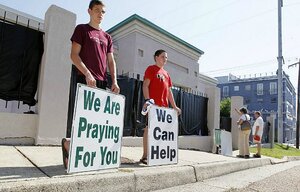 Rogelio V. Solis/AP
Mississippi could soon become the only state without an abortion clinic because of a new law taking effect this weekend. Critics say the law would force women to drive hours across the state line to obtain a constitutionally protected procedure, or could even force some to carry unwanted pregnancies to term.
Top officials, including the governor, say limiting the number of abortions is exactly what they have in mind.
Republican Gov. Phil Bryant frequently says he wants Mississippi to be "abortion-free."
"If it closes that clinic, then so be it," Bryant said in April as he signed the law, which takes effect Sunday.
Abortion rights supporters have sued, asking a judge to temporarily block the law from taking effect. So far, that hasn't happened.
The law requires anyone performing abortions at the state's only clinic to be an OB-GYN with privileges to admit patients to a local hospital. Such privileges can be difficult to obtain, and the clinic contends the mandate is designed to put it out of business. A clinic spokeswoman, Betty Thompson, has said the two physicians who do abortions there are OB-GYNs who travel from other states.
Michelle Movahed of the New York-based Center for Reproductive Rights is one of the attorneys representing the Mississippi clinic in its federal lawsuit. She said in an interview Friday that several states — including Mississippi, Kansas and Oklahoma — have tried in the past two or three years to chip away at access to abortion.
---