Residents allowed at sites where their homes burned
Homeowners who were evacuated from Colorado Springs will be allowed to tour the neighborhoods where their homes burned.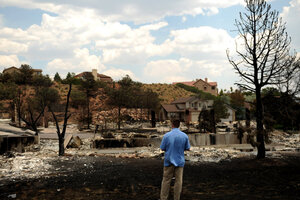 Joe Amon/AP
People who fled the most destructive fire in Colorado's history are being allowed temporary visits to the most devastated neighborhoods, and many will find that their homes were among the nearly 350 burned to the ground.
About 10,000 people remain evacuated, down from more than 30,000 at the peak of the Waldo Canyon fire in Colorado Springs.
On Sunday people whose homes were burned will be allowed to tour the affected areas. Authorities said some residences would be cordoned off with police tape, and people would not be allowed beyond that point.
The home of Janine Herbertson and her 15-year-old daughter, Tessa Konik, remained unburned amid 150 others that were destroyed, said Herbertson as they ate lunch Saturday outside a Red Cross shelter.
Even so, "I'm afraid to go on the tour tomorrow and see our neighborhood in ruins," she said.
The 26-square-mile fire was 45 percent contained late Saturday night. It was one of many burning across the West, including eight in Utah and a fast-growing blaze in Montana that forced residents in several small communities to leave.
On Saturday, firefighting crews were keeping a wary eye on weather that was becoming warmer and drier.
"The weather is making progress in a bad direction. Hotter, drier, with a chance of thunderstorms in the afternoon. Winds will shift from one direction to another," said Incident Commander Rich Harvey.
About 1,200 personnel and six helicopters were fighting the Waldo Canyon fire, and authorities said they were confident they had built good fire lines in many areas to stop flames from spreading.
"Crews made progress all around the fire,'" said Harvey, who was cautiously optimistic. "The fire potential is still very, very high. It's extreme and explosive."
---