Romney vs. Obama and Bain vs. Solyndra: Who will win?
As the presidential election progresses into a July lull, concerns over health care and super PACs continue to take a backseat to the economy in voters' minds.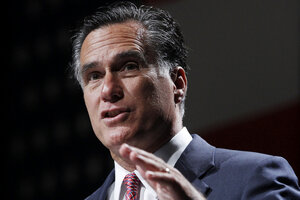 AP Photo/Charles Dharapak
The presidential race is entering the sultry summer, a final lull before the sprint to Election Day, with President Barack Obama and Republican Mitt Romney neck and neck and no sign that either can break away.
As both candidates take a breather this week — Romney at his lakeside compound in New Hampshire and Obama at the Camp David presidential retreat — each sees problems he'd like to cure before Labor Day.
Obama and his allied groups aren't keeping pace with Romney and the Republican fundraising machine, and that places more pressure on the president to solicit huge sums himself. And the Supreme Court ruling that saved Obama's signature health care initiative last week didn't change the fact that most Americans don't like the law.
Romney's fundraising is impressive. But, in a sign of his hurdles, he's spending heavily in North Carolina, a state he almost certainly must win to have a chance at the White House. And some voters in key states appear uncomfortable with his record at a corporate restructuring firm before he became Massachusetts governor.
National polls suggest that Obama holds a small, perhaps meaningless lead as he awaits a new jobs report Friday that could bring bad news similar to last month's. Romney is offering few details of his own health and economic proposals for now, perhaps thinking outside forces will dislodge the president.
---