What's the 4th of July without fireworks?
Wildfires, dry weather and tight budgets have put a damper on fireworks in some communities this Independence Day.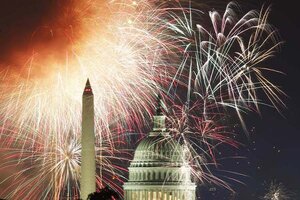 REUTERS/Hyungwon Kang/Files
As millions of Americans celebrate Independence Day on Wednesday, there are some whose holiday won't be going off with a bang.
One of America's top fireworks firms said the industry, still suffering due to the nation's economic woes, is experiencing its toughest times since the Vietnam War era when the country was divided over such flashy displays of patriotism.
"What we are seeing now in the fireworks industry is equivalent to what happened in the '70s," said Philip Butler, vice president of Fireworks by Grucci, based in New York.
"At that time, unfortunately, people were tending more to burn the flag than to wave it. Fireworks suffered until 1976 when we celebrated the bicentennial and then they came back considerably," he said.
About $217 million will be spent on an estimated 14,000 Fourth of July fireworks displays across America, a Grucci spokesman said. But 70 percent of those shows will be at private or corporate events in premier locations like the Hamptons, Malibu, Lake Tahoe and the Jersey Shore, according to Grucci.
---