Tiger Woods stumbles at Greenbrier Classic
Tiger Woods finished eight shots behind the leader Fijay Singh at the Greenbrier Classic Thursday. Tiger Woods tees off at 1:20 pm Friday.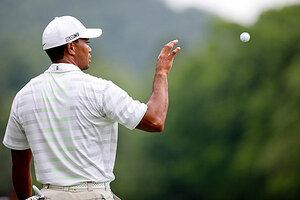 (AP Photo/The Roanoke Times, Kyle Green)
Vijay Singh charged into a one-shot lead with a blistering finish to Thursday's opening round of the Greenbrier Classic at White Sulphur Springs in West Virginia as Tiger Woods made an erratic start.
Woods, the hottest player on the PGA Tour with three victories this season and bidding this week for a second consecutive win, returned a roller-coaster 71 that included a double-bogey seven at the 17th.

"Most of the day I was slightly off and I definitely struggled with my green speeds," Woods told Golf Channel after totaling 31 putts in the opening round.

"My last three tournaments were awfully quick and I just didn't have the right speed out there."
IN PICTURES: Tiger Woods through the years

Woods, who overtook Jack Nicklaus in second place on the all-time list of PGA Tour winners with his two-shot triumph at the AT&T National on Sunday, is competing in the Greenbrier Classic for the first time. In the second round, Woods tees off at 1:20 pm Friday.

Asked if he was still adjusting to the Old White Course, Woods replied: "It takes a little bit of time, especially in our tournament conditions.

"The ball goes a little bit further because of adrenalin but I've got the feel of the golf course now. I'm going to hit some balls later and definitely putt for a while."
---