Why single-sex education is spreading across the US
An estimated 500 public schools across the US now offer some all-boy and all-girl classrooms. But the American Civil Liberties Union is involved in a battle against single-sex learning.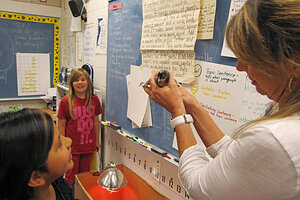 (AP Photo/Jessie L. Bonner)
Robin Gilbert didn't set out to confront gender stereotypes when she split up the boys and girls at her elementary school in rural southwestern Idaho.
But that's exactly what happened, with her Middleton Heights Elementary now among dozens of public schools nationwide being targeted by the American Civil Liberties Union in a bitter struggle over whether single-sex learning should be continued. Under pressure, single-sex programs have been dropped at schools from Missouri to Louisiana.
"It doesn't frustrate me," Gilbert said of the criticism, "but it makes the work harder."
While Gilbert's school is believed to be the only one in Idaho offering single-sex classes, the movement is widespread in states like South Carolina, which has more than 100 schools that offer some form of a single-gender program.
RECOMMENDED: Are you as well read as the average 10th grader?
Single-sex classes began proliferating after the U.S. Education Department relaxed restrictions in 2006. With research showing boys, particularly minority boys, are graduating at lower rates than girls and faring worse on tests, plenty of schools were paying attention.
---