House may prosecute journalists for reporting leaked information
After recent New York Times stories containing information that some considered a threat to national security the House is considering revising the Espionage Act, and allowing journalists to be prosecuted for disclosing sensitive information.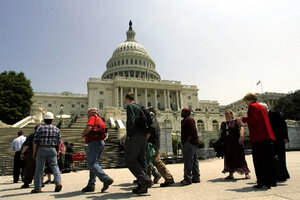 Manuel Balce Ceneta/AP
In response to New York Times stories that relied on leaks of sensitive national-security information, a House of Representatives panel on Wednesday discussed legislation that could allow journalists to be prosecuted for disclosing such information.
Army Col. Ken Allard testified to a House Judiciary subcommittee that the extent of national security leaks is "unprecedented" in American history. Recent examples include the Times' investigations of President Barack Obama's terrorist "kill list" and American cyberattacks on Iran.
According to Allard, such investigations threaten national security and serve only to promote the news media's self-interest. He charged that such investigations were carefully planned to help Obama's re-election chances and to advance the media's own agenda. An example, he said, was New York Times reporter David Sanger's new book, "Confront and Conceal," which details American cyberattacks on Iranian nuclear facilities.
Allard testified that Sanger was "systematically penetrating the Obama White House as effectively as any foreign agent," which he said exposed vital secrets to Iran and put the U.S. in danger of retaliation.
"Far from advancing our rights as citizens — as a free press should — Mr. Sanger deliberately placed his country at significant risk for his own profit," Allard charged.
---