Will the Massachusetts Senate race be the costliest race in the country?
Senator Scott Brown was about $3 million behind Elizabeth Warren in fundraising over the past three months, raising only $5 million.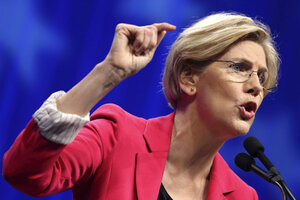 Michael Dwyer/AP/File
US Sen. Scott Brown raised about $5 million in the second quarter of 2012, less than the more than $8.6 million raised by Democratic rival Elizabeth Warren during the same three months.
Brown's campaign released the total Wednesday, saying that about two-thirds of his campaign donors who gave during the quarter are from Massachusetts. The campaign didn't say how much of the $5 million came from inside the state.
Warren has also not said how much of the money she collected from May-June came from outside Massachusetts.
Brown's campaign finance director said he was pleased with the level of donations to the Republican incumbent.
"We are extremely grateful for the strong showing of support for Senator Brown from the people at home who know him best," John Cook said in a statement.
The $5 million brings Brown's campaign fundraising total to about $17 million when added to figures previously posted by the Federal Elections Commission.
That's compared to the more than $24 million Warren has raised so far this election cycle.
Brown still has an edge in cash on hand, however.
The campaign said it had $15.5 million in its account at the end of the quarter. That's compared with $13.5 million for Warren, a Harvard Law School professor.
Warren's campaign said more than 80 percent of its second-quarter donations were $50 or less, and more than half were $25 or less. The campaign said June was its most successful single month to date, with $3.1 million raised during the month.
---