Judge orders Tennessee county to allow new mosque to open
After a long batter in Rutherford County, a federal judge ruled that worshipers should be allowed to use a newly built mosque.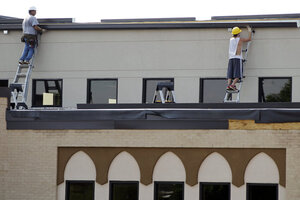 Mark Humphrey/AP
A federal judge Wednesday ordered a county in the southern state of Tennessee to move ahead with opening a Muslim congregation's newly built mosque after a two-year fight from opponents.
The Islamic Center of Murfreesboro sued Rutherford County earlier in the day and asked District Judge Todd Campbell for an emergency order to let worshippers into the building before the holy month of Ramadan starts at sundown Thursday.
Federal prosecutors also filed a similar lawsuit.
The future of the mosque had been in question since May, when a local judge overturned the county's approval of the mosque construction. This month he ordered the county not to issue an occupancy permit for the 12,000-square-foot (3,658-meter) building.
Campbell ordered the county to move ahead on approving the mosque for use, although it wasn't immediately clear if that could happen by Thursday. Final inspection of the building is required.
The contentious fight over the mosque stems from a 2010 lawsuit filed by a group of residents who made repeated claims that Islam was not a real religion and that local Muslims intended to overthrow the U.S. Constitution in favor of Islamic religious law.
Those claims were dismissed, but opponents won with a ruling that overturned the approval to build the mosque on the grounds that county didn't give adequate public notice of the meeting.
Although the county advertised that meeting in the same way it has advertised others, the judge said extra notice was needed because themosque construction was "an issue of major importance to citizens."
---