Colorado shooting: Bomb squads disarm suspect's booby-trapped apartment
With the help of a robot, Colorado shooting suspect James Holmes' booby-trapped apartment has been largely disarmed. Authorities say he planned to kill whoever entered – most likely a first responder. Also Saturday, those killed in the theater attack began to be publicly identified.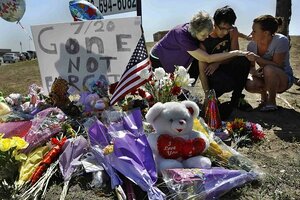 Shannon Stapleton/Reuters
The Colorado shooting suspect planned the rampage that killed 12 and injured dozens of others at a suburban movie theater with "calculation and deliberation," police said Saturday, receiving months of deliveries in advance that authorities believe armed him for battle and were used to rig his apartment with explosives aimed at killing first responders.
"You think we're angry? We sure as hell are angry," Aurora Police Chief Dan Oates said.
Authorities on Saturday were still working to clear dangerous explosive materials from inside James Holmes' suburban Denver apartment, which was booby trapped to kill "whoever entered it," Oates said, noting it would have likely been one of his officers.
Federal authorities detonated one small explosive and disarmed another inside Holmes' apartment with a device that emits a shock wave and water, a law enforcement official told The Associated Press. The official spoke on condition of anonymity, citing the ongoing investigation into the shooting rampage that killed 12 people and wounded 58.
Colorado shooting: A rare glimpse into Mitt Romney's Mormon faith
Holmes' apartment appears to have three types of explosives — jars filled with accelerants, chemicals that would explode when mixed together and more than 30 "improvised grenades," the official said.
Oates said Holmes has been preparing the attack for months.
---