Victims mourned, remembered for their sacrifices in Aurora
Family and friends of the victims of the Aurora shooting attended funeral services this weekend.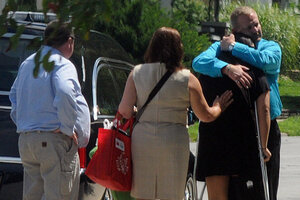 Marshall Gorby/AP
A man who saved his girlfriend's life at the Colorado movie shooting was remembered for his selfless sacrifice Saturday, while an aspiring sportscaster was praised for her boundless energy and an Air Force reservist as a good friend.
The girlfriend who Matt McQuinn saved by taking three bullets aimed at her wept as pastors spoke of the senselessness of the shooting spree at the suburban Denver theater where 12 people were killed just more than a week ago.
Mourners packed a church in this western Ohio town where McQuinn came from, while family and friends gathered in San Antonio on the same day to remember Jessica Ghawi and a private funeral service was held at Buckley Air Force Base in Aurora, Colo., for Staff Sgt. Jesse Childress.
More funerals are set for next week.
When gunfire broke out in the Aurora theater, McQuinn, 27, dove in front of his girlfriend, Samantha Yowler, and was shot three times.
Yowler, who was shot in the knee and survived, arrived at McQuinn's funeral on crutches Saturday and wept quietly with his parents and other family during the funeral. Neither she nor his parents addressed mourners at the Maiden Lane Church of God.
Pastor Herb Shaffer, who is also McQuinn's uncle, said his nephew had been a gift to his family since he was born, and that his actions in Colorado were just one example of his selflessness.
McQuinn called his mother three times the day before she had surgery because he was upset that he couldn't be there in person, Shaffer said. When he was just 7, he put his arm around his younger cousin because he was worried she wasn't having a good day, he said.
---