When power corrupts: Penn State struggles with tarnished legacy
Penn State awaits a new school year, and a fresh start, in the wake of the Jerry Sandusky scandal.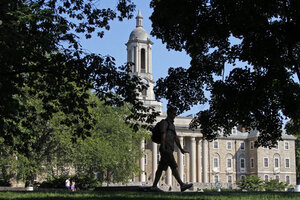 Gene J. Puskar/AP/File
Welcome back after the off-season from hell.
Penn State's torturous timeline, spanning from last November to last week, cast a pall over the sport that could have hardly been fathomed this time last year.
Jerry Sandusky's pathetic mug shot, the Freeh Report, Joe Paterno's eradicated legacy and NCAA President Mark Emmert's recitation Monday of unprecedented sanctions have left a football nation dazed and confused.
"In one form or fashion it has affected us," Commissioner Jim Delany said in his opening statements this week at Big Ten media days.
The Aug. 30 opening bell can't get here soon enough as we eagerly anticipate the return to trivial pursuits. Before we move on, though, we reflect.
What happened here? What happens now?
The lasting take-away of Penn State is biblically obvious: The consolidation of power in the hands of a few, over time, is poisonous.
Lord Acton, the historian and moralist, opined in another century: "Power tends to corrupt and absolute power corrupts absolutely."
Acton's next line, not as often repeated, is "great men are almost always bad men."
---