Romney's foreign trip ends on a high note in Poland
At a library at the University of Warsaw in Poland, U.S. Presidential Candidate Mitt Romney spoke of 'freedom and justice.' Romney's stop in Poland was likely a way of appealing to Polish and Catholic voters. He returned to Boston Tuesday.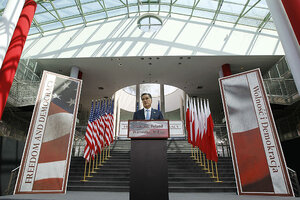 AP Photo/Charles Dharapak
Mitt Romney wrapped up a bumpy three-country overseas tour on a high note Tuesday, meeting with Poland's leaders, being warmly received by large crowds as he visited sacred sites and delivering a lofty speech about the persevering values that unite the nation and the United States.
After days of bad headlines prompted by gaffes Romney made in England and Israel and criticism from foreign leaders, the final leg allowed Romney to both highlight foreign policy contrasts with President Barack Obama on issues such as missile defense and to court swing-state voters of Polish descent or the Catholic faith.
Emphasizing the deep ties of friendship between America and Poland and expressing his appreciation toPoland for standing beside the U.S. in conflicts over many generations, including the wars in Iraq and Afghanistan, Romney said he was inspired by "the path of freedom tread by the people of Poland."
"Our nations belong to the great fellowship of democracies. We speak the same language of freedom and justice," he said in a speech at the library of the University of Warsaw. "I believe it is critical to stand by those who have stood by America. Solidarity was a great movement that freed a nation. And it is with solidarity that America and Poland face the future."
---