Drew Peterson judge set to rule on mistrial motion
Just days after it began, the judge in the Drew Peterson murder trial outside Chicago will announce his ruling Thursday on whether or not it will continue.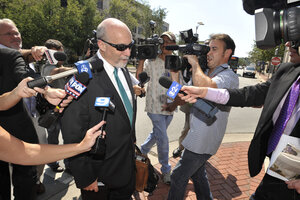 Paul Beaty/AP
A judge is set to decide Thursday whether to declare a mistrial and put an end to Drew Peterson's murder trial just days after it began, and legal experts say the ruling could result in the former suburban Chicago police sergeant going free, though that remains unlikely.
The expected ruling by Judge Edward Burmila follows several blunders by prosecutors, who are seeking to prove the 58-year-old Peterson killed his third wife, Kathleen Savio, in 2004. He also is a suspect in the 2007 disappearance of his fourth wife, Stacy Peterson, but has never been charged in her case.
A furious Burmila admonished prosecutors Wednesday after the second witness in just their second day of testimony began talking about finding a .38-caliber bullet on his driveway. Thomas Pontarelli, a former neighbor of Savio's, hinted in his testimony that Peterson may have planted it there to intimidate him.
Prosecutors later admitted under tough questioning by the judge that there was no evidence to support the claim. And Burmila wondered aloud about whether the testimony made Peterson appear menacing in jurors' eyes and undermined his ability to get a fair trial.
In addition to declaring a mistrial, Burmila also could possibly find the state deliberately entered testimony explicitly barred in advance of the trial — a ruling that would mean Peterson can't be tried again for murder in Savio's death and would be freed, according to Gal Pissetzky, a Chicago defense attorney with no ties to the Peterson case.
"Mistrials are rarely granted, and rulings that an error was done deliberately is almost unheard of," Pissetzky said. He added that any such motion would be a monumental embarrassment for prosecutors and for Will County State's Attorney James Glasgow.
---