Rafael Nadal withdraws from US Open
The owner of 11 Grand Slam titles is dealing with an injury and will not compete in the US championships, scheduled to start later this month.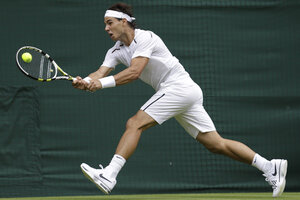 Anja Niedringhaus/AP/File
Rafael Nadal withdrew from the U.S. Open on Wednesday, sidelined by an leg injury that has kept him out of action since his stunning loss at Wimbledon in late June.
The third-ranked Spaniard reached the final at Flushing Meadows each of the past two years, winning the title in 2010 to complete a career Grand Slam, then losing to champion Novak Djokovic in 2011.
"I am very sad to announce that I am not ready to play the US Open in NY. Thanks to my fans for their support and specially, the new yorkers," Nadal wrote on his Twitter account.
He hasn't played a match since June 28, when he was upset in the second round at the All England Club by 100th-ranked Lukas Rosol. Shortly after that defeat, Nadal canceled a scheduled charity match against Djokovic in Spain, citing a left knee injury. Nadal has had recurring knee problems in the past.
The 26-year-old Nadal also pulled out of the London Olympics — he won the gold medal at Beijing in 2008, and was supposed to carry Spain's flag in the opening ceremony this time. He also opted not to play in a hard-court tuneup tournament in Cincinnati.
---