Records show troubled past of pediatrician accused of waterboarding stepdaughter
Doctor Melvin Morse, who faces allegations of waterboarding his 11-year-old stepdaughter, had financial problems and a troubled relationship with his ex-wife. He was also fascinated by the near-death experiences of children.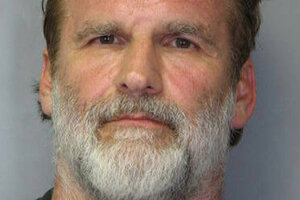 AP Photo/Delaware State Police
To many people, Dr. Melvin Morse was a brilliant pediatrician at a renowned children's hospital and a best-selling author who parlayed his research on near-death experiences into appearances on "Larry King Live" and "The Oprah Winfrey Show."
Away from the spotlight, however, Morse was tormented by personal and financial problems and, according to court records, wrestled with depression, substance abuse and even suicidal thoughts. His latest trouble involves allegations of waterboarding his 11-year-old stepdaughter, using the simulated drowning technique to bring her to "a possible near-death state," police have said.
Based on his work involving children's near-death experiences, police suggested he may have been experimenting on her.
Morse, 58, was accused in July of grabbing his daughter by the ankle and dragging her across a gravel driveway. When police did a follow-up interview last week, the girl said Morse had held her face under running water at least four times since 2009, using faucets in the kitchen, bathroom sink and bathtub. Her mother, Pauline Morse, witnessed some of the waterboarding but did nothing to stop it, police said.
Both Melvin and Pauline Morse are free on bail. They face a preliminary hearing Thursday on felony endangerment and conspiracy charges.
In an interview with The Associated Press, Melvin Morse called the charges an overreaction by authorities. An attorney for Morse, Joe Hurley, said the idea that Morse was experimenting on his own daughter was "the sheerest of speculation."
---